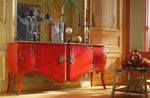 Introducing a vintage element to your interior design scheme can give it character and individual style. A stand-out family heirloom or pre-loved treasure found at a flea market that contrasts with the style of the rest of the room makes it look original and fresh. But how to get it right?


Considerations
The first thing to consider when buying vintage pieces is the size of your space and how you want it to feel: elegant or quirky, formal or relaxed, decadent or functional. Pieces which provide visual contrast have the most impact: a traditional glass chandelier lends glamour in a contemporary country kitchen, a traditional Moroccan style rug will add texture and warmth to a modern living room and contrasts well with the clean lines and materials of minimalist furniture. If you're not sure which period you want to plunder, research different eras to gather knowledge and inspiration. Compact mid-century furniture, designed for apartment living in the 1950s for example, is a stylish option where space is tight.
Buy What You Love
Antique or vintage furniture crafted from natural materials like wood, metal and stone are a good place to start – you will often find they're beautifully made to stand the test of time. Old wood and metal furniture may not be in perfect condition but should be checked before buying to ensure the joints are secure and it is structurally sound. Go with your gut, buy what you love and have fun doing it!


Mix Styles
Once you've bought your vintage pieces, you'll need to work out how to combine them with the other elements of your interior. Professional designers know that a melange of styles keeps a look original – it's a tried and tested trick of the trade. So go ahead and pair that mid-century desk with a rustic chair or introduce a traditional armchair upholstered in a funky modern fabric to bridge the divide between different periods.
Make a Statement
A statement vintage piece needs to take centre-stage so you'll need to keep this in mind when working out the layout of the room. Aim for a space which looks curated not chaotic and think about contrasting textures when styling the space. Rustic, time-worn pieces work best paired with sleek, smooth textures. Velvet sofas in a contemporary setting would look brilliant next to an old blanket box cum coffee table with peeling paintwork and rough edges. A vintage wood cabinet or sideboard would lend quirky stand-out style to a sleek contemporary kitchen or bathroom full of smooth polished surfaces.




The key to creating a room that's a combination of old and new is to limit vintage pieces to one or two periods or styles. Don't overdo it: the aim is a look that's new and original, not a pastiche of the past!