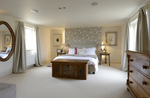 How to Furnish a Guest Bedroom?
Your spare bedroom needn't be a dull or forgotten about space used as your family's dumping ground or for extra storage. Instead, opt to create a sanctuary within your home, a room, that when you open the door, it welcomes visitors, immediately making them comfortable and at ease. In our recent blog, we've looked at how you can create a stylish and desirable room – somewhere your guests, and you can enjoy being.
Remove Any Clutter
If you're hoping to bring a sense of calm and tranquillity to the guest bedroom, then spend some time clearing away any clutter that may have built up in the space. Whether your ironing board and clothes pile has made its home there or you have hauls of unwanted belongings waiting to be removed, now is the time to tidy the space to help you on the way to creating a haven for your visitors.
Add Statement Pieces
A statement piece can take your interior to the next level, giving you the wow factor as you enter the room. Whether you opt for an over-the-top addition or you go for something with a little more harmony, this interior choice can add that 'something extra' that your room may be missing. You may opt for a large and ornate mirror, an opulent chandelier, bright and bold textiles or a conversation-starting piece of artwork.
Dress the Bed
A bed that has been thoughtfully dressed goes a long way in the transformation of your guest bedroom. As one of the main features of the room, it immediately draws the eye's attention, making it one of the main considerations when you're designing the space. Create a sense of luxury and relaxation, with an oversized cushioned headboard and a selection of scatter cushions.

Top tip: layering quilts and throws on the bed will add texture and interest to the room, as well as this, it gives your guests the option to control their temperature throughout the night, opting for more or fewer covers depending on how hot or cold they're feeling.
Function
How the guest bedroom functions is equally as important as how it looks and feels. Despite a room being beautifully decorated, it can often be uncomfortable to be in if it doesn't serve a purpose or function as the guest would like. To help make your visitors' stay more enjoyable, there are several considerations which should be a priority:


If you have the space, add both a full-length mirror as well as a cosmetic mirror.
A wardrobe is preferable, but if this isn't possible, a free-standing rail or wall-mounted hooks will be helpful.
Wastebin
Hand wash, shampoo and body wash
For when your guest has forgotten their own!
Choose those in colours that are in-keeping with your interior.
Rugs
A rug can help to make a room feel warm and cosy, as well as bring interest, depth and additional layering to your space. Placing a rug underneath a bed or dressing table will ensure comfort as your guest wakes or while they're getting ready for the day ahead. Available in a range of styles from Oriental rugs to patterned and neutral, you will be able to find the perfect addition to your flooring.
Plants
Bring life and greenery to the room by adding potted plants. Opt for evergreen varieties for year-round visual appeal, and if the guest bedroom isn't used frequently throughout the year, move it somewhere within your home where it can be seen and admired when you haven't got visitors!
Restfulness
The overarching consideration for your guest bedroom is how restful the space is. The most important aspect is ensuring that your visitors get a great night's sleep, despite being away from their normal surroundings and without their home comforts. Prepare them for quality time or action-packed itineraries by offering a restful space, somewhere they can recharge and unwind. The colour pallet you opt for can play a big part in how restful a room feels – will you opt for neutral tones or bold choices, like deep purples or navy blues?
Furniture
If you have the space in the room, adding more than just a bed will make the guest bedroom feel more homely. A small desk and chair can double up as a place to catch up on emails as well as putting on makeup. An armchair allows them to comfortably use the space for more than sleeping, while a television or stack of books encourages leisure time.
Will you be welcoming visitors to your home soon? How have you transformed your guest bedroom from a dumping ground to an inviting and comfortable space? We'd love to hear how you've created a loved and used space!