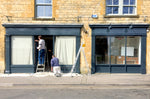 The Building of Cotswold Grey
Little did the young boy filling up cans with paraffin for elderly ladies in his father's ironmongers know that forty years later he would have transformed it into the stunning interiors brand Cotswold Grey. 
Located on the High Street of quintessential Cotswolds market town Moreton-in-Marsh, the elegant façade of Cotswold Grey has changed little since it first opened for business as an ironmonger in 1880.  Open the door and you'll find a contemporary interior flooded with natural light. 
Cotswold Grey was born when the boy, Simon Jeffrey, by now a man, was contemplating what to do with the old ironmongers following the death of his father.  His mother had put the property up for sale but, after several months on the market, no one was showing much interest in buying it.  
'It had been an ironmongers continuously for 160 years and Dad ran it for forty', says Simon, 'but by the time he died aged 84, traditional establishments like it had been replaced by big DIY stores such as Homebase and B&Q, so it was unfeasible to continue.' 
Latterly the ironmongers had been divided into two with one half occupied by an art gallery.  When the art dealer decided to move out and return to her native Australia, an idea was born – to knock-down the dividing wall and take the property back to its original condition. 
It proved to be a mammoth task – and a voyage of discovery for Simon and a team of builders and carpenters led by his old friend Nick Glover. When they took a hammer to the whitewashed walls where paintings had once hung, they realised there was something beneath.  The breeze blocks were removed to reveal lovely old mottled red brick - along with a couple of original fireplaces which they incorporated into the re-design of the space. 
At the back of the shop was an outdoor area with huge paraffin tanks that led to 'The Bolt Shed', a room piled high with buckets of screws and nails, bits of machinery, lanterns and other metal bric-a-brac collected over decades.  Above it was a dog-grooming shop – with a barber's on the floor above that.  There was an old boat buried in the garden. The job of clearing and demolition, before they could begin to build, was huge.  The project was meant to take three months to complete but took a year. 
'Because the building is three-storey the logistics were quite difficult,' Nick explains. 'We chopped out holes through the floors to get rid of the old lath and plaster, which filled twenty-five skips!'
The inspired architectural design linked the buildings with a modern glass atrium designed by local firm Calarel. It forms a gallery flooded with natural light for a treasure-trove of vintage and contemporary furniture, artworks and objects for the home.  The lofty arched roof is the perfect space for an eclectic collection of chandeliers and pendant lights. 
Pass through the atrium out into the garden and you'll find more – much more - to tempt you.  Planters, statuary, outdoor seating flanked by rustic-looking sheds which house quirky and covetable one-offs plus an extensive collection of carpets and rugs.  It's hard to believe, standing at the front of Cotswold Grey, on the High Street, that in all there's 16,000 square metres of Tardis-like space inside.  And if the showroom is a Tardis, Simon is its Dr Who, a wizard with a vision and a unique eye for the unusual – which he trawls the world to buy often accompanied by his family (who provide a valuable sounding board and second opinion!).
A stand-out feature at Cotswold Grey is the variety of textures in the interior: painstakingly laid reclaimed scaffold boards on the floor, Spanish tiles which look like rusted copper on the countertop and French glass tiles with an antique foxed finish on sections of wall. 
Moreton-in-Marsh has a mainline railway station which is ideal for transporting visitors to the Cotswolds, so Simon hit on the idea of creating luxurious holiday rental apartments on the floors above the showroom. They are decorated, naturally, with Cotswold Grey furniture, rugs and mirrors. The state-of-the-art kitchens are stocked with the brand's stylish glasses and tableware.  The apartments have proved to be extremely popular with guests who return over and over again.
'It was a huge project – one that grew and grew', says Simon. 'A gallery, apartments, the Chicken Shed.  There were days when I thought it would never end! Building is like being on a roller coaster: there's no getting off half way…'.