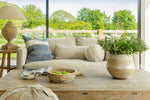 Interior Design Tips for Selling your Home
When it comes to selling your home, there are a few key 'interior design' elements that you need to consider when appealing to potential buyers. From ambient lighting to soft furnishings and unique vintage pieces, our team here at Cotswold Grey know what it takes to transform an interior. Take a look at our most recent project in the Cotswolds for inspiration on how you can make your home stand out from the competition.
A Room with a View : Transforming a Cotswold Home
Nestled in the heart of the rolling hills of the Cotswolds, the picturesque market town of Stow-on-the-Wold is renowned for its quaint architecture, charming boutiques and stunning countryside views. Over the last few weeks our team has had the pleasure of designing the interiors scheme for a truly remarkable property in this idyllic location, which has just been launched on the property market.
Drawing inspiration from the organic charm of the surrounding landscape, we have crafted an interior scheme that radiates a sense of relaxation and tranquility. Our approach was to utilize a neutral color palette, with soft, warm tones that complement the natural light streaming in through the large windows that frame the breathtaking views of the countryside.
To bring the design concept to life, we carefully curated a selection of furniture and decor pieces that evoked a rustic charm and timeless elegance. Here are our top tips for creating this look:
Bringing the Ouside In
The natural setting that surrounds this property sets the tone for the entire scheme, and when putting together the interiors we placed huge importance on reflecting the natural textures and tones within each piece. The living room features a pair of our relaxed linen Snowshill Sofas, whilst vintage coffee tables, sideboards and wooden table lamps add a sense of rustic texture and charm. The colours that we have used in this interior include earthy wooden tones, sky blues, and leafy greens, to ensure that the room sits well within the surrounding countryside. 
Space and Lighting
A de-cluttered home is appealing to buyers, and it's important to make sure your rooms have lots of breathing space to avoid them feeling small. We've used the furniture within this project to create different areas within the open plan layout, keeping the larger items low whilst creating accents with tall plants and statement lighting. For the evenings we've added a selection of wooden table lamps with linen shades, to create a warm effect that contrasts the daytime light.
Finishing touches
Dressing your home is important for creating an interior that looks warm and inviting. Here we've used beautifully soft linen cushions to finish the sofas, cosy rugs to soften the wooden flooring, and arrangements of faux-flowers and bowls with fresh fruit to add life and accents of colour throughout. 
Be Consistent with Your Style
Keep your room cohesive by selecting pieces that have a similar narrative. Mix pattern, print and texture to create layers but always come back to your central theme. In this home we've maintained a consistent aesthetic that allows each space to flow effortlessly. 
Take a look at the final results below. And if you're interested in buying the property then check out the full listing on Savills' website here.