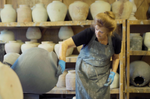 Frezoli Lighting - what's the big deal?
Our Frezoli lighting collection is our customers' first choice and our interiors designers' top pick when it comes to choosing lighting for an interior scheme. 
With a design process that is second to none, Frezoli's family-run business places a strong emphasis on high quality craftsmanship, stunning design and sustainability. With over 30 years of knowledge and experience, they have grown from being a small-scale production to a worldwide company, whilst staying true to their roots.
Within their workshop, Frezoli's craftsmen design their own collections and produce the vast majority of lamps using handmade methods. They have developed bespoke finishing techniques to give each model its unique aesthetic, and the lamps can be easily recognised by the use of ceramics, wood, steel, copper and fabric. Before leaving the factory, each lamp is checked and tested by expert staff to ensure that each product is of the highest quality. 
Image: Frezoli designs in progress. Source: Frezoli
Spotlight : Ceramic Table Lamps
At Cotswold Grey, Frezoli's ceramic table lamps have become well known and greatly sought-after by our customers. The lamps have a unique organic aesthetic, and each is lovingly handmade in a traditional way on a potter's wheel. Once the shape is formed, the base is baked in an oven and coated in the workshop to create Frezoli's textured aesthetic. This natural yet eye-catching style sits beautifully within any home aesthetic, and can be perfectly matched with one of Frezoli's linen shades to create a cosy, soft look in any living space.
 The Fani Table Lamp, White Fawn
Pair With : Linen Lampshades 
Not only is all lighting handmade, but so are the lampshades, which are entirely created by hand in the Netherlands. Each shade is carefully crafted and then finished with handpicked linen fabrics. From drum shades to empire shades, there are sizes and styles to suit each lamp and every interior. 
A Sustainable Brand  
Frezoli lighting is timeless and durable as a result of the high quality materials that have been chosen for each piece. As a result, these are lamps that you will keep for a lifetime. Frezoli places great importance on being a sustainable company and as a result the majority of Frezoli's lighting is made from recyclable materials, and all packaging is fully recycled. Even Frezoli's own packaging is turned into filling material, which is then used to protect the products during transit. 
With all of these benefits we can see why the Frezoli lighting collection at Cotswold Grey has become so popular. We love working with this friendly family business and we are incredibly proud to be one of the only stockists of Frezoli Lighting in the UK. 
Check out our Frezoli collection online or in store - with desk lamps, floor lamps, table lamps and more, there is something for everyone.